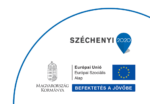 Beneficiary name: CreatIT Solutions Background and Communication Limited Liability Company
Project title: Capacity expansion at CreatIT Solutions Ltd.
The amount of the contracted support: 25 989 600 HUF
Intensity of support: 70%
The contents of the project:
The aim of the project is to expand the number of employees by employing 4 full-time employees, as well as to employ the colleagues for 24 months.
– Employing 3 software developers
– Employing 1 salesperson
Additional goals of the project: Thanks to the new workforce, the company can take on the orders it receives more dynamically, the company's productivity and efficiency are expected to increase in the next period. Replacement of currently existing subcontractor partnerships with internal resources, so that planability and availability/flexibility can change positively. Increasing competitiveness, ensuring sustainability, increasing sales revenue.
Planned completion date of the project: 2022.12.30.
Project identification number: GINOP-5.3.12-19-2020-00041