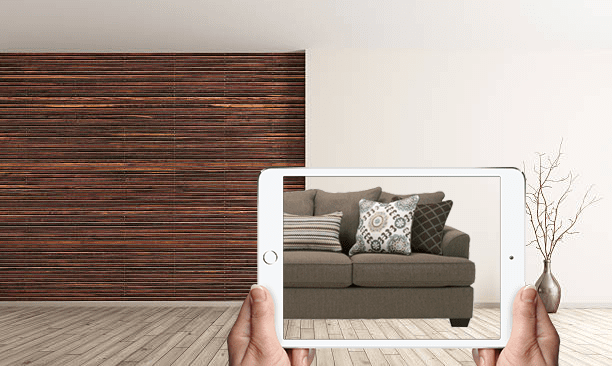 Nowadays, smartphones and smart devices have become an integral part of our everyday lives, and thus online shopping is flourishing. This technology affects every aspect of the market, including the furniture industry.
Buying a new piece of furniture is never a quick decision. The purchase is preceded by careful consideration. You have to really think it through: Does the chosen item match the rest of the room? It doesn't disrupt the overall picture, does it? Are you really sure it's the right one? And Granny will like it too, right?
Those who are in the furniture sales business have certainly learned to deal with the doubts that arise when a customer stands before them brooding over their big investment. Their pockets are full of well-proven arguments, sweet-sounding, convincing words to shift the scales in their favor. This works perfectly while the potential customer is standing in the shop, biting their nails in indecision between the pale blue and the dark blue armchairs – but from the moment they leave the shop, the salesman ceases to have any influence over them. You can heap catalogues onto them and plant ideas in their heads, but you can never be sure that you've gotten rid of their indecision.
These days, it's more and more common for technology to enable the salesman to assist the customer at home in making the big decision. Augmented reality technology shows the customer how the chosen piece of furniture will actually look in their home. The mobile app allows them to position a life-sized virtual copy of the chosen furniture into their home so they can be sure it fits well in its chosen place. As soon as they find the ideal piece of furniture, they can purchase it immediately via an online store. The app helps customers be sure of their decision, reducing the ratio of returned furniture.
Generally speaking, people spend an increasing amount of time online. For this reason, augmented reality helps furniture customers even before they enter the store, or during online shopping. Many furniture stores are using similar methods.
Software companies can create apps in which the furniture store's entire stock will be viewable. Being able to change the furniture's color and material is a very useful development because the customer does not have to go from store to store in search of a suitable piece of furniture. They can find the perfect one from the comfort of their own homes. These apps often have a photo feature as well, which lets people take a snapshot of the potential winners to share with their friends.
The advantages of an augmented reality furniture app
This new option for customers to buy furniture through a mobile app is progressively gaining ground. For furniture manufacturing companies, this is an excellent opportunity for product distribution. There has never been a better solution to this than augmented reality.
Customers using this app are able to virtually position the chosen furniture in their home. They can shop comfortably during this process, increasing their satisfaction and engagement and leading to an increase in sales.
Did we arouse your interest? Click here to find more information about our services.