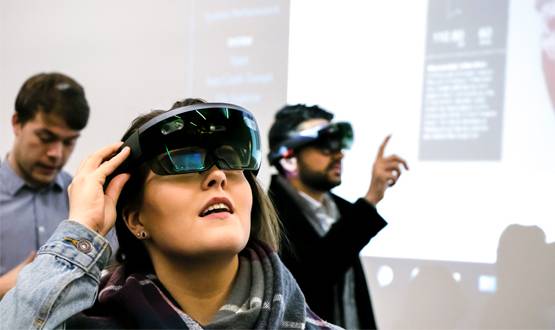 Mixed reality technology is already being implemented in almost every sector. You can find it in the furniture industry, clothing sales, education, and of course: in medicine. Mixed reality makes it possible to conduct special surgical procedures and to recognize rare cases. Additionally, this technology has become an integral part of doctors' continuous education.
Janssen Hungary took the HoloLens app we developed for them to an exhibition. We made several videos included in the app, each showcasing a different scenario.
At the expo, when the visitors entered a room and put the HoloLens glasses on, a presentation started about the history of the company. Throughout the video, there were various effects simulating symptoms of schizophrenia, which gave the participants insight into the lives of people who live with this disease.
The goal was to pull them out of the expo's commotion and portray the disease to them in an innovative and captivating way. Mixed reality is a perfect tool for this, since the viewer sees everything through the glasses, while the headset eliminates all external sounds.
The video's realistic effects and excellent visuals conveyed the desired concept in a powerful manner.
We can portray anything we want to our target audience with mixed reality glasses, limited only by our imagination. We can make any imagery interactive, we can introduce them to their dream house, bring the location of a long-awaited vacation to them, guide them to the past into the land of the dinosaurs or into a sci-fi future. One thing is certain: we'll create a lasting experience for them that they will be sure to remember.
Did we arouse your interest? If you've thought of an interesting concept, write to us and we will help you turn it into a reality! Click here to find out more about our offers.